Sometimes the best things in life are the things you don't plan. While I was in NYC, I just happened to casually browse for flights to Europe and noticed that flights to Lisbon were only $400 round trip.
Without so much of a blink of an eye, I booked the flight and gave myself the 24 hour cancellation period to change my mind. And I'm so glad I didn't cancel because Lisbon was absolutely amazing -- from exploring the various cobblestone lined neighborhoods with beautiful architecture, indulging in fresh seafood, to hiking up to castles from fairy tales, there was no dull moment. Here's a Lisbon travel blog compilation of some of my top things to do in Lisbon, including active activities, food spots, and more!
For other Fitsian Travel guides, check out Fitsian Tips for highlights of my previous trips and more to come! If there's any other city you would like to be featured, comment below!
Lisbon Travel Blog:
Top Active Activities: Lisbon Travel Blog
Wander Around The Various Neighborhoods
Lisbon is a very walkable city. With its various neighborhoods, each with its own distinct qualities and sites to see, there's plenty to do and see from just wandering around its cobblestoned streets. Lisbon is also extremely hilly, so wandering around the city is a guaranteed leg day work out. Here are some of the key neighborhoods and sites to see in each.
Alfama
Alfama is the oldest neighborhood in Lisbon, and has some of the oldest architecture in the city. It is a beautiful area to walk around, albeit very hilly. I easily spent hours here walking around taking photos of the beautiful buildings. It's home to a number of sites, including San Jorge Castle, the Pantheon, the Tile Museum, as well as a number of viewpoints, including Miradoura de Graca and Miradouro de Senhora do Monte.
Baixa
The central and most lively part of Lisbon. Chock full of coffee shops, stores to shop at, etc. A little more on the touristy side but definitely with going to. Sites worth seeing include the Elevator of San Justa, the arc, and the Prado Commercio. The square itself is also quite a sight to behold.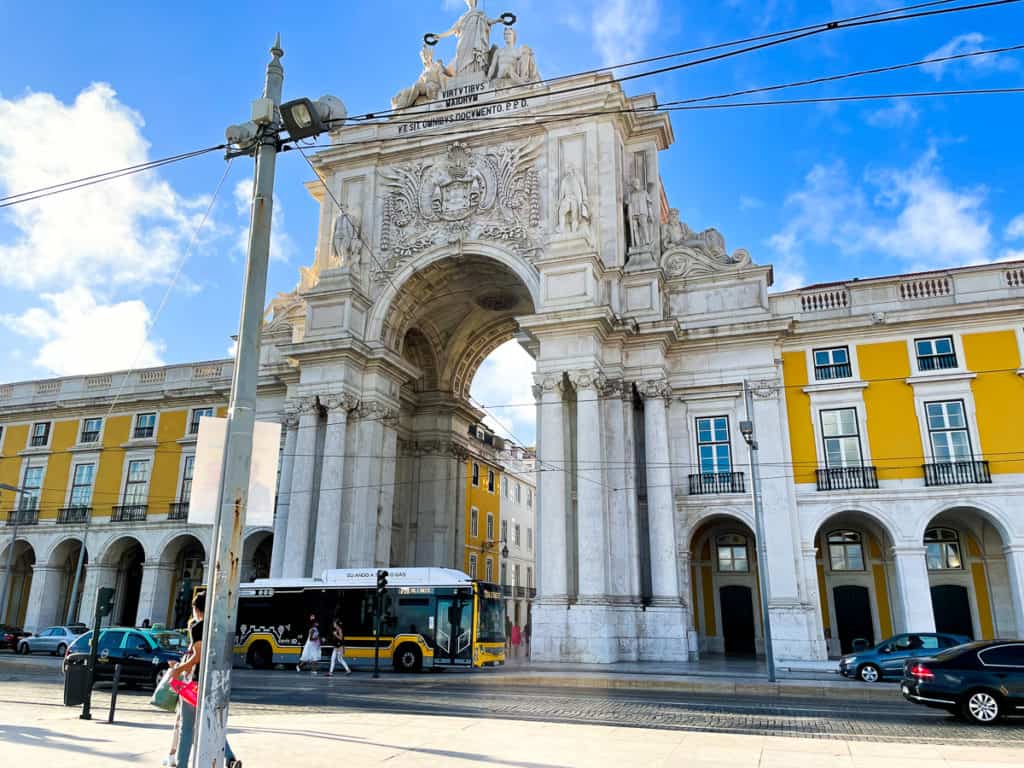 Barrio Alto
Foodie paradise by day, nightlife hot spot by night, and a guaranteed stairmaster workout all day long, Barrio Alto is a beautiful neighborhood to walk around -- just be sure you're ready to climb up and down those staircases while taking in the beautiful street views. It's well worth the work out! Check out the Miradouro São Pedro de Alcântara viewpoint, and the beautiful street art, as well as Agua Pela Barba for some delicious seafood.
Belem
A district of historical importance to Lisbon, Belem is home to some of the most beautiful and important archaeological sites of Lisbon. The Jerónimos Monastery, as well as the Belem Tower, is located here. Walking along the water, you'll also encounter the Monument of Discoveries, as well as the MAAT museum. If you get the Lisbon card, all of these sites are covered by it. While you're heading back to town, you can stop by LX factory, which is a hipster shopping center, complete with some delicious eateries, including some delicious grilled chicken and chocolate cake at Landeau Chocolate. Belem is also home to the Pasteis del Belem, a popular spot for Portuguese egg tarts. Personally I didn't try it because I've heard from locals that there's another spot they prefer (and with a shorter line) more below.
Visit the Eduardo VII Park and the Greenhouse
I would liken this park to be the Central Park of Lisbon. I wandered here actually in search of the Greenhouse, but was also pleasantly surprised by how beautiful the park itself was. There's even a small fountain-side cafe that's a great place to relax at.
The Greenhouse is included in the Lisbon Pass.
Take a Day Trip to Sintra and Do The Castle Hike
Sintra is about a 40 minute train ride from Sintra but well worth it if you're itching for some nature and a brief break from the city. Sintra was a resort town for the royal families of Portugal, where they built castles that you would only imagine from fairy tales. The most famous castle here would be Pena Palace -- I would definitely prioritize this one over all others. It's colorful exterior and lofty towers makes it feel like you stepped into a fairy tale. It's also at the end of the castle hike. Also worth visiting is the Castle of Moors and the Quinta Regaleira (which isn't on the same hike but a short walk from town). The hike itself can be easily accessed through the Vila Sassetti trail, a well paved and marked trail that will last about 45 minutes. It will take you through the beautiful lush greenery of Sintra, and is an experience unlike any other. Nothing beats the feeling of emerging from a leafy trail into the site of a beautiful castle. Train tickets are included with Lisbon Pass, although most monuments are not (or only have a discount). Check out Tascantiga and Casa Piriquita for some tapas and unique pastries to refuel after the hike.
Cascais Beach Biking
Another good day trip option is to travel to Cascais, the beach resort near Lisbon, which is a great place to bike around. There is a nearby beach, Guincho, which you can only really access via bike. Unfortunately I didn't have the time to do this myself during my own trip, but am definitely going to prioritize this for next time I'm in Lisbon. Train tickets are included with Lisbon Pass.
Fitsian Foods: Lisbon Travel Blog
Bairro do Avillez
By far one of my favorite dining experiences in Lisbon. This is a concept restaurant featuring 4 in 1 from the renowned chef, Avillez, including a tapas style tavern, upscale dining restaurant, a bar, and a pizzeria. I liked it so much I stayed 2 hours to experience and try dishes from multiple. My all time favorite was the deliciously flavored seafood rice, featuring shrimp and lobster.
Ramiro
Featured on Anthony Bourdain's No Reservations, this is the place to go if you want to indulge in some delicious, local style Seafood. I got an entire crab, roe included, which proved to be a delicious dipping. Also dessert at this restaurant is the steak sandwich, which I could not skip out on. Pro tip - dipping the crab roe in the steak sandwich made from an amazing DIY surf and turf. Since I was traveling solo, I wasn't able to try as many dishes as I would have liked, but would definitely want to try the garlic shrimp and clams next time.
Agua Pela Barba
A delicious, neighborhood favorite for seafood in Barrio Alto. The restaurant itself is decorated with a seafood and nautical theme. I got the seafood risotto and fried egg appetizers which were absolutely delicious.
Manteigaria
You can't come to Lisbon without trying the famous Portuguese egg tarts. I opted to try these, as I've heard through locals and also the Eater documentary on Lisbon that this was better compared to the popular Pastéis del Belem.
Cucurico
Housed in the back of the LX Factory, Cucurico had some of the most deliciously spiced and juicy tender chicken thighs I've ever had. They're known for using free-range chicken to make the traditional piri piri chicken.
Coffee Shops: Lisbon Travel Blog
Lisbon has a plethora of beautiful cafes with strong coffee to give you boost from the jetlag or walking around all day. One thing to note though is that I've found a lot of places limit or disallow the use of laptops. Also most places do NOT carry almond milk (but most have oat milk), so be sure to ask if those are important factors for yourself.
Ela Ela Cafe
A small, minimally decorated cafe with great drinks and strong wifi. I found this cafe as it was nearby my Airbnb and quickly become a regular during my short time there. It's a great, non crowded cafe to get some work done.
The Heim
This a brunch spot first and foremost, but also was a great place to get some work done, as it allows laptops and has a strong wifi network. It's slightly more crowded depending on the time you go. Best of all, it was one of the few cafes in Lisbon I found that carried almond milk!
Copenhagen Coffee Company
A coffee chain in Lisbon that is a popular working spot for digital nomads and remote workers. I can also count on them on a strong cup of coffee, strong Wifi, and outlets
Other Lisbon Tips
Get the Lisbon Pass
I bought shrimps from the market behind Time Out (Mercado de Ribeira) and they were the freshest, most delicious shrimps I've ever cooked!
Getting Around
Public transportation is super easy and affordable through the Lisbon pass. Uber is also relatively affordable here. Scooters are also an option, although I found it hard to use them on the cobblestoned paths.
I would just bring some cash just to be safe as there are a few restaurants I've encountered to be cash only.
Try Cooking If You Have the Time and Space to Do So
I bought shrimps from the market behind Time Out (Mercado de Ribeira) and they were the freshest, most delicious shrimps I've ever cooked!
Map of Lisbon Travel Blog Activities