Hot pot is a classic favorite during the cold winter months. The warm broth infused in the delicious beef slices and vegetables truly warms one's soul.
This shared meal is a great way to enjoy time with family or a gathering with friends.
It's a popular alternative among my family, similar to many other Asian families, to enjoy hot pot for Thanksgiving or a Christmas dinner.
While hot pot is undeniably delicious, is hot pot healthy?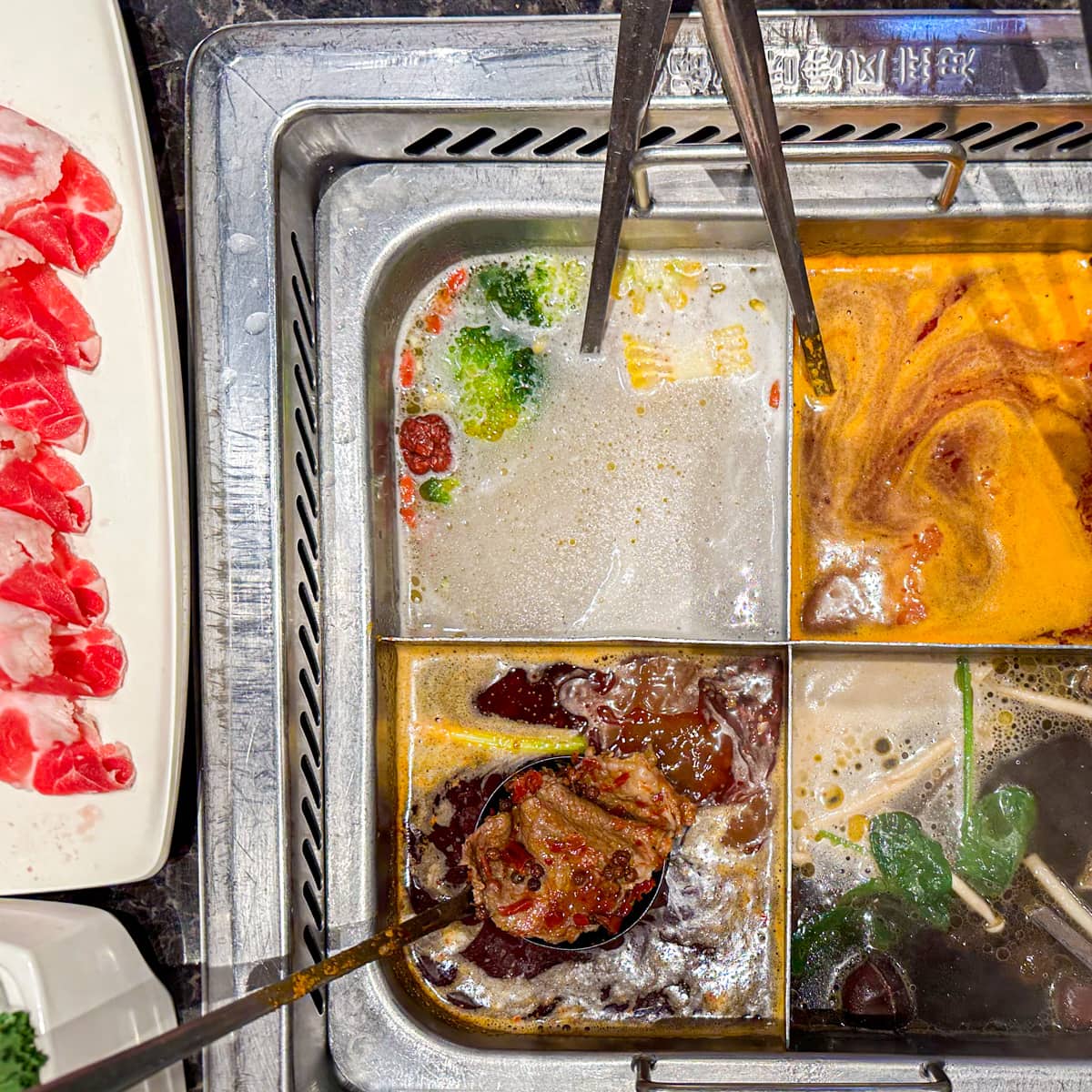 Hot pot is not a healthy dish given the heavy usage of oil in its broths, the high-fat content of many of the components of popular hot pot ingredients and dipping sauces, and the tendency to overeat given that it is often served as a shared meal, making it hard to track portion sizes.
On average, a serving of hot pot per person is a whopping 1,668 calories with 67 grams of protein, 118 grams of fat, and 86 grams of carbs, making this a bad choice for those who are looking to lose weight.
Thankfully, with a few ingredient swaps, omissions, and mindful portioning, you can easily make hot pot low-calorie and macro-friendly and achieve your fitness goals.
Jump to:
💭 What Is Hot Pot?
Hot pot is a traditional Chinese dish that consists of a hot, boiling broth served with raw meat, vegetables, and other mix-ins, such as noodles, fish balls, and spam. People dip the ingredients in the soup to cook the ingredients, then eat them, sometimes with a dipping sauce.
Other Asian cultures also have their versions of hot pot, such as budae jiggae or jeongol in Korean culture, and sukiyaki and shabu shabu from Japanese culture.
🍎 Is Hot Pot Healthy?
Hot pot is not a healthy dish given that it typically consists of several high-fat ingredients, such as fatty cuts of beef and the oil from the broth, and it's easiness to overeat given it's a family-style meal which often makes portioning less intuitive.
Let's take a look at the typical ingredients that go into hot pot and their macronutrient profile:
As you can see, there is a high amount of fats and carbs driving the high-calorie content of a typical dish.
The typical soup base, such as the ever-popular spicy chilly oil base, is packed with oils and adds a whopping ~600 calories to the hot pot.
Additionally, the meats used in hot pot are not the leanest, so while they do have great protein content, they can easily add up in fats if not positioned correctly. In this example, a portion of beef adds about 434 calories, largely driven by fat content.
Then we take into account the carbs that are often consumed with hot pot. While carbs are a necessity for any healthy diet, the dilemma with hot pot is that it's very easy to overeat.
Additionally, most of the other sides that come with hot pot, such as fish balls and imitation crab, have little nutritional value from a macronutrient point of view and add mainly calories from fats or carbs.
Dipping sauces can easily add up in calories if not chosen carefully. Many oil or paste-based dipping sauces can easily add up in calories. These type of ingredients run at about 100 calories per tablespoon each, so they add up quickly.
🍏 How To Make It Healthy
Thankfully, it's not hard to make a few adjustments to make a low–calorie and protein–packed hot pot meal.
Here's what I did to make this healthy:
Used 4 oz of beef. Added additional cod and tofu to the hot pot for more protein from a leaner source.
Portioned half a pack of udon
Made a home-made broth consisting of long boiling of chicken and herbs which is minimal in calories given the omission of oil usage
Bulked up on the vegetables
Used a soy-based dipping sauce, mixing in scallions and chilis for additional flavor for a low-calorie dipping sauce. Soy sauce is only 10 calories per tablespoon as opposed to 100+ from other variations.
For a detailed breakdown of each ingredient, their portioning, and how they make up the nutrition profile of this curry chicken recipe, you may refer to the table below:

🥘 Eating Hot Pot At A Restaurant vs. Making It At Home
Hot pot is something that you can easily make at home besides eating it at a restaurant. It's probably one of the easiest things to make at home since it just involves dipping the raw ingredients into the boiling broth. All you need is the broth, a hot plate, and a pot to cook it in.
If your goal is to lose weight and track your macros, I would highly recommend making hot pot at home rather than going out to eat. It is nearly impossible to track your macros when eating out, especially when eating in a group setting.
Even if you bring your food scale out to weigh your meat, it's hard to know what goes into the broth.
Also depending on the format of the restaurant, it can be difficult to control your portion size. Some restaurants have a pre-set hot pot where everything comes cooked and portioned (like Tasty Pot), whereas others are a la carte or all-you-can-eat, which can even make it harder to control portion size and ordering since people tend to have an "order as much as you can to make it worth it" mentality.
Making it at home gives you full control over what goes into the hot pot from the soup, dipping sauce, to the portioning of meats and carbs. All you need is the hot pot cookware.
Whether you are eating hot pot out or making it at home, here are some tips to help you make it healthier, low-calorie, and with ample enough protein.
🍲 Use the Right Soup
Using the right broth is essential to making hot pot lower in calories. The broth is the base of the entire dish and everything we keep will soak the broth up.
Certain broths, such as spicy Sichuan ones, are packed with calories due to their high usage of oil. For example, a spicy Sichuan soup base from Haidilao has a whopping 1349 calories, which is mainly attributed to its 134.4 grams of fat.
For best results, make your own broth.
Some examples of homemade broth inspired by popular hot pot restaurants
Spicy homemade – Toast Sichuan pepper, star anise, cinnamon, and bay leaves. Simmer with scallions, onion, garlic, and ginger, and add doubanjiang (chili bean paste). Season with Shaoxing wine and sugar to taste.
Qing Tan Guo Di (Clear herbal broth) – Consists of chicken simmered with mushrooms, scallions jujube, and Goji berries
Mushroom – Same as the above, except omitting the chicken. This is a great vegetarian option
Tom Yum – Not quite Chinese but delicious and easy to make nonetheless. Simmer shrimp shells, galangal, lemongrass, and kaffir lime leaves. Add some Thai chilis if you want to make it spicy. Check out my seafood tom yum recipe for more detailed instructions.
Regardless of which soup you choose, all of these recipes involve steeping the flavor of the herbs and ingredients into the soup and adjusting it with sauce and some seasonings, you can make a delicious flavorful broth that is minimal in terms of calories.
For more soup base inspiration, check out this list of popular soup bases.
🥩 Choose and Portion the Meat Mindfully
Hot pot is often served with red meats, such as beef, lamb, and pork. While they are delicious, none of them are lean protein sources.
For purposes of staying on track, I would recommend portioning the amount of beef used. A good portion for myself is about 4 ounces, which packs 217 calories with 21 grams of protein and 15 grams of fat.
Although beef is not the leanest source of protein, I would still recommend eating it as it is one of the only protein sources that have a complete set of amino acids that aid in the muscle-building process.
Lamb is also another good option that also contains whole proteins, A 4-ounce serving contains 228 calories with 20 grams of protein and 15 grams of fat.
I'd also consider using some portion of lean proteins in hot pot. While not popular in hot pot restaurants, these are equally as delicious and allow you to eat more without packing on calories from fat.
Some examples of lean protein include fish slices and shrimp.
I've also seen thinly sliced Chicken being sold at HMart and hot pot restaurants like Haidilao.
Lastly, I would avoid pork products or fake proteins, like imitation crab, spam, and beef balls. Despite appearing to contain protein, these tend to be mainly carbohydrates, with some semblance of very processed protein from its name counterpart.
If you want to consume them, just be mindful that this should count toward your carb intake rather than protein intake, and be mindful of the portion size, as they can add up in calories quickly.
🍢 Be Mindful of Additional Mix-Ins
Hot pot also has a lot of additional mix-ins, including but not limited to fish balls, imitation crab, spam, dumplings, etc. Most of them have very little protein content despite denoting seafood or some type of protein content and are largely made of carbs with a very small amount of a very processed remnant of the denoted protein.
For purposes of weight loss or building muscle, It's best to omit or use these mix-ins sparingly.
🥬 Bulk up on Vegetables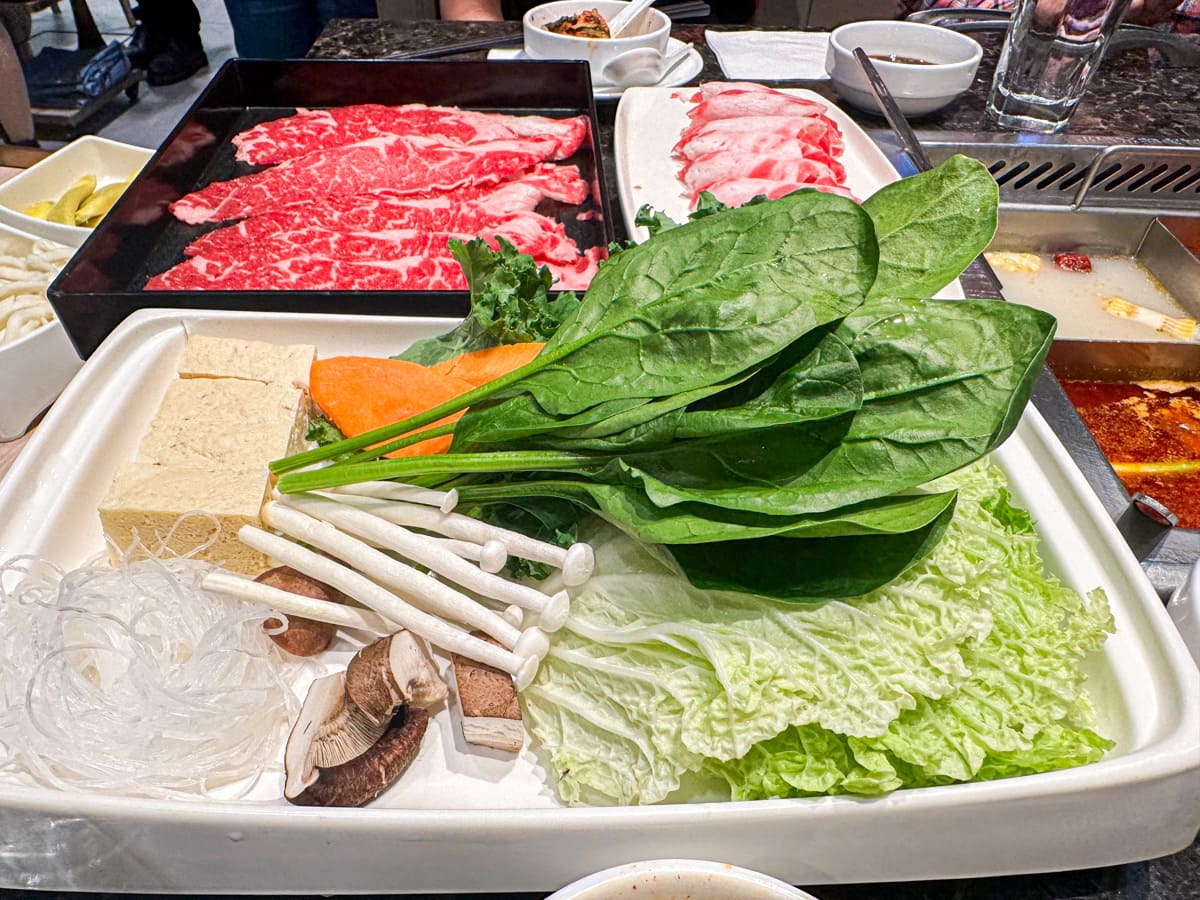 Vegetables are a great way to bulk up the meal and add some fiber without adding many calories. They are also very delicious in hot pot, soaking up the broth base and infusing the flavor of the broth.
Some popular vegetables to include are napa cabbage, spinach, shiitake mushrooms, enoki mushrooms, and carrots.
🍚 Add a Portioned Amount of Carbs
Carbs are an essential part of the human diet and there's nothing as delicious as noodles soaking up the delicious broth from hot pot.
However, it's important to portion this mindfully as carbs can easily add up calorie-wise if not portioned correctly, hindering progress towards your fitness goals.
Use a portioned amount of noodles or pair with a side of rice.
You can also opt to use the more carb-heavy mix-ins, such as fish balls and rice cakes, as your carb of choice.
🫕 Watch the Dipping Sauce
Most hot pot restaurants will have a buffet of dipping sauces where you can make your own sauce. Opt for lower calorie dipping sauces, such as anything soy sauce based.
Garnish with some chilis, cilantro, or scallions for additional flavoring.
Anything with sesame oil, chili oil, and sesame paste will be higher in fats and heavier in terms of calories. It's best to omit or be mindful of portion size with these types of dipping sauces.