Thai curry is a classic favorite in Thai cuisine. The flavorful curry paste infused with coconut-based broth mixed with juicy meat makes for a flavorful and hearty meal.
While Thai curry is undeniably delicious, is Thai curry healthy?
Thai curry is not the healthiest given that they're usually mixed with a heavy portion of coconut milk, which is very caloric and packed with fats. Thai curry is often also served with a side of rice, which adds additional carbs that are not portioned correctly. A single serving of Thai curry can be upwards of 700 calories! This makes it a less-than-ideal food choice for those trying to stay fit.
Thankfully, with a few ingredient swaps, omissions, and mindful portioning, you can easily make Thai curry low-calorie and macro-friendly to help you achieve your fitness goals.
Jump to:
💭 What Is Thai Curry?
Thai curry is a classic Thai dish that consists of a coconut-based curry and is typically cooked with meat, vegetables, and herbs. It's typically served with a side of rice. Thai curry can come in a variety of different colors, such as green, red, or yellow. The color typically comes from the main spice or herb that the curry paste is made from.
Other Asian cultures also have their versions of curry, such as Japanese curry and Vietnamese curry, to name a few.
Thai curry is a great dish to eat family-style. Pair the Thai curry with some delicious pineapple fried rice or crab fried rice for a well-rounded Thai meal.
🍎 Is Thai Curry Healthy?
Thai curry is typically not a healthy dish given that it typically consists of several high-fat ingredients, such as high-fat coconut milk and potentially fattier protein sources, as well as copious amounts of rice, making a very high-calorie meal.
Let's take a look at the typical ingredients that go into Thai curry and their macronutrient profile: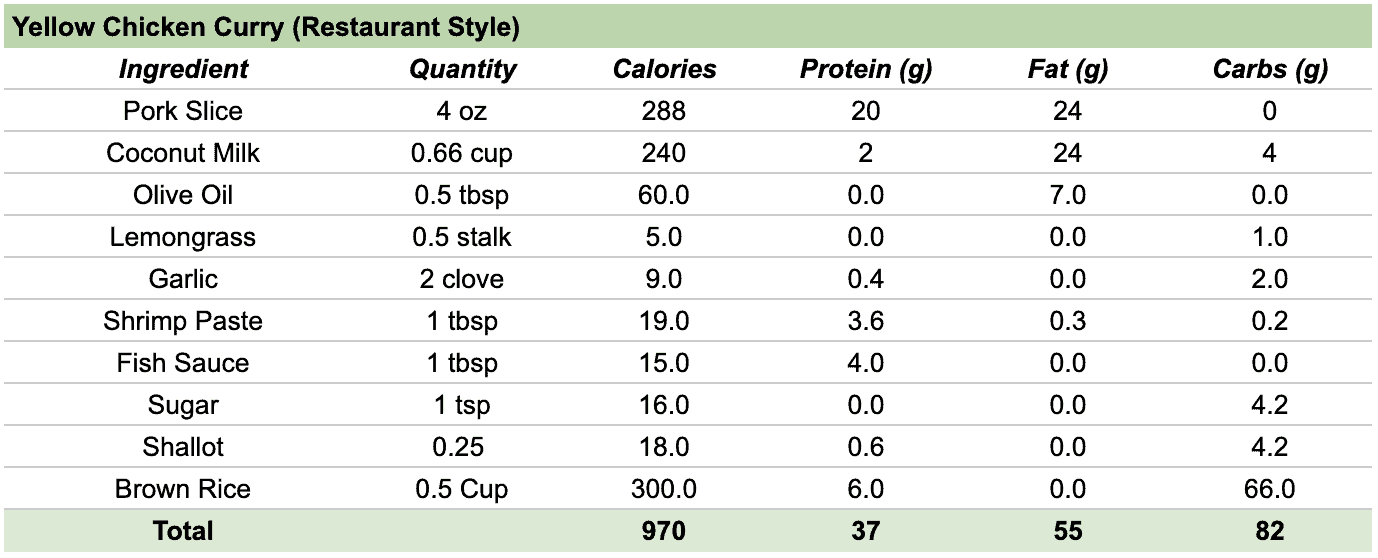 As you can see, there is a high amount of fats and carbs driving the high-calorie content of a typical dish.
The typical curry made with coconut milk is packed with oils and fats from the coconut milk alone adds a whopping 240 calories to the curry.
Additionally, the fattier cuts of meat such as beef or pork are used in the curry, they can easily add up in fats if not positioned correctly. A similar-sized portion of pork belly adds almost 600 calories, largely driven by fat content, compared to only 130 from the chicken thigh.
Then we take into account the carbs that are often consumed with Thai curry. While rice is a great component of any healthy diet, not portioning the rice will lead to excess calorie consumption.
🍏 How To Make It Healthy
With a few key ingredient tweaks, it's actually quite easy to make a healthy Thai curry recipe.
Here are some key tips to keep in:
Opt for lean protein – Lean protein options such as chicken, shrimp, or seafood, have ample protein content with very little calories.
Portion the rice – It's easy to overeat rice if not portioned correctly. I typically use 1 portion of Jasmine rice for my nutrition needs (160 calories).
Opt for low-fat coconut milk – A serving of light coconut milk is 45 calories compared to 120 calories from normal coconut milk, saving a significant amount of calories while still retaining the same delicious flavor
Make your own curry paste – Use a homemade curry paste when possible. This allows for more control over the ingredients and a fresher curry taste without overpowering preservatives
Portion the sugar and seasonings mindfully – Fish sauce and sugar are both essential to the curry flavor. It's especially important to portion the sugar mindfully.
Use cooking spray – Instead of traditional oil for everything that was sautéd or fried. 1 tablespoon of olive oil adds a whopping 120 calories to the dish, whereas cooking spray is 0 calories.
🥘 Restaurant vs. Making It At Home
Thai curry is something that you can easily make at home besides eating it at a restaurant. If your goal is to lose weight and track your macros, I would highly recommend making Thai curry at home rather than going out to eat. It is nearly impossible to track your macros when eating out.
Nevertheless, If you are out eating Thai curry, here are some tips to keep it healthier:
Opt for lean proteins, such as chicken, shrimp, fish, or other seafood
Be mindful of carb consumption and portion accordingly
Consider sharing with a friend and ordering an additional lean protein dish, such as Pad Kra Pao, to add protein to the meal and limit the amount of fat consumed from the coconut-based curry. Unfortunately, it's gonna be near impossible to request a restaurant to use light coconut milk here.
Avoid ordering sugary drinks, like Thai tea, which can easily add 300 calories to the meal, largely from fats and carbs.
Making Thai curry at home gives you full control over what goes into the dish, but by following these tips, you can still order Thai curry while eating out with a healthier take.
🍲 Healthy Thai Curry Recipes
Thai red curry comes from a delightful combination of fragrant herbs and spices including lemongrass, galangal, kaffir lime leaves, and red chilies.
The red chilies give it the distinctive red hue that this curry is known for. Given this, red curry can often be one of the spicier types of curry depending on the chilies it's made from. To better control the spice level of this dish, I would recommend buying a pre-made curry paste from the store rather than making it yourself.
Red curry goes well with any protein type and is often also used as the base for curry noodle soups, such as khao soi. In my recipe, I use chicken, a great source of lean protein.
Using the tips mentioned above, I was able to make this authentic Thai red curry recipe at only 398 calories with 32 grams of protein, 15 grams of fat, and 46 grams of carbs.
See how I made my authentic Thai Red curry recipe.
Thai Yellow curry is characterized by its distinctive yellow flavor that comes from the turmeric that is combined in the curry paste, giving it a mellow earthy flavor. Yellow curry is typically more on the mild side and is a great choice for someone that isn't too comfortable with spicy food.
It goes well with a variety of different proteins. In this recipe, I cooked it with chicken, but it also goes especially well with seafood, such as shrimp and scallops.
Using the tips mentioned above, I was able to make this Thai yellow curry recipe at only 396 calories with 31 grams of protein, 15 grams of fat, and 46 grams of carbs.
See how I made my authentic Thai yellow curry recipe.
Green Thai curry has a distinctive green flavor that is traditionally made from green chilies and herbs, giving it a brighter and fresher flavor. The spiciness can range a lot depending on the type of chilies it's made from (green Thai chilies being very spicy vs. jalapenos which are relatively mild).
I typically like to make it with a blend of herbs, such as cilantro, spinach, and jalapeno or serrano peppers to give it a bright flavor and beautiful green hue.
This curry goes well with most proteins. In this recipe, I cooked it with cod to make a delicious green fish curry.
Using the tips mentioned above, I was able to make this Thai green curry recipe at only 370 calories with 31 grams of protein, 5 grams of fat, and 46 grams of carbs.

See how I made my authentic green curry recipe.
Thai butternut squash curry combines the warm flavors of curry with the classic fall vegetable of butternut squash to make the perfect comforting squash curry. It's a rendition of a red curry recipe with squash soaked in the delicious savory curry.
Using the tips mentioned above, I was able to make this butternut squash curry at only 435 calories with 32 grams of protein, 15 grams of fat, and 55 grams of carbs.
See how I made my butternut squash curry here.
💭 FAQs
How is Thai curry different than other types of curry?
Thai curry typically has a more herbal and sour taste compared to other types of curry such as Japanese or Vietnamese curry, which tend to be milder and sweeter. It also is characterized by its coconut-based curry broth.
Which brand of Thai curry is the best?
Mae Ploy's curry pastes are a common favorite among Thai cooks due to its authentic flavor. It's one of the few curry pastes that contain shrimp paste, an essential ingredient for any authentic Thai curry.
💡Expert Tips
Galangal and Kaffir Lime Leaves – These two ingredients are essential for any Thai curry recipe and may be harder to find. You can find fresh ones at your local Asian market or dried ones online.
Use Mortar and Pestle – For optimal flavor, use a mortar and pestle to grind the herbs and spices
Lemongrass cutting – To use the lemongrass, peel out the tough outer layers and slice the lower half of the lemongrass into small slices until the purple rings disappear. The parts with the purple rings is where the flavor is concentrated